The FIFA Fairplay Guide is a joint initiative of Deutsche Telekom AG and the esports player foundation.
Together with well-known FIFA content creators, such as Tim Latka or NikLugi, as well as world-class esports players, such as RBLZ_Umut or WOB_Fabio, the FIFA Fairplay Guide was developed together with the community in 3 livestreams.

With the FIFA Fairplay Guide we want to achieve that all players can be part of a community that is certainly fair and inclusive.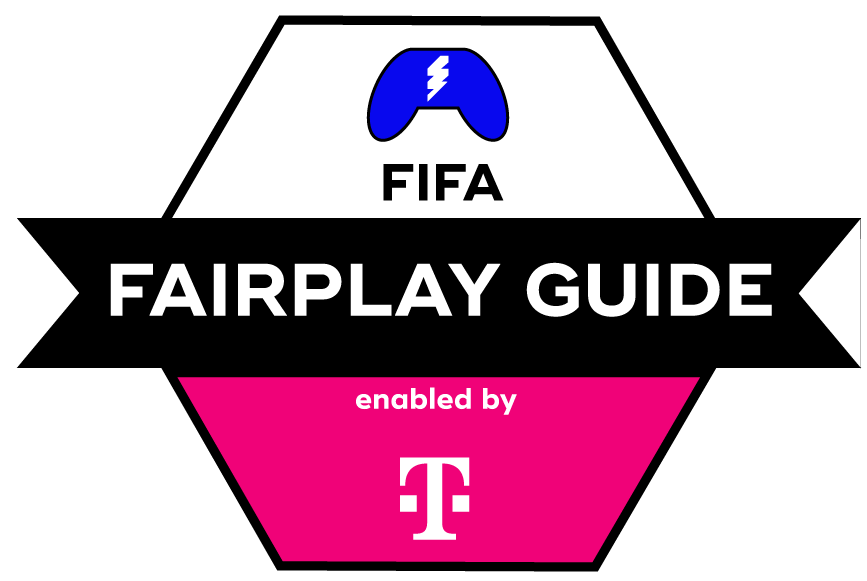 As a game-specific behavioural guide, it mainly includes rules on how players should behave in certain game situations. For example, the community has agreed that the golden goal rule should be used in friendly matches in order to complete tasks more quickly.
At the same time, the guide also addresses how to deal with hate speech and toxic behaviour, because we can only make progress if the community knows how to deal with it.

The FIFA Fair Play Guide includes all sporting, moral and ethical principles that the community and protagonists have worked out together and agreed on.
1. I respect the rules of the game
Rules are necessary for every game, as they promote positive interaction. Rules constitute a game by implementing the game's idea. In this way, they encourage equal opportunities as far as possible. By following the rules of the game, you guarantee the basic principles of fair play such as fairness, equal opportunities and integrity.
2. I respect opponents, teammates, publishers and spectators
Fairplay means respect. Fairplay also means acting respectfully without fixed rules. It is therefore rather an attitude of each player: Fairplay means adherence to agreed rules, renunciation of unjustified advantages, equal opportunities, considerate behavior, showing respect for the sporting opponent and acceptance of the other. In every game, not only winning counts, but also respect for the opponents, because a game would not be possible without this.
Winning is worthless if it is not accomplished in an honest and fair manner. Playing fair requires courage and character, but it also turns you into a role model. By following the rules of the game, you encourage others to play fair.
Winning in a way that is not honest and unfair occurs primarily when other players are deliberately sniped. Snipers deliberately ensure that the opponent is at a severe disadvantage in the match and receives a defeat.
4. I live integrity and values in FIFA
At the heart of all fairplay is competition with integrity. For us, competition with integrity exists when equal opportunities, fairness, absence of discrimination, transparency, absence of violence, adherence to values and the community's right of co-determination are at the center of all action.
5. I treat all players equally
Gaming and Esports are open to everyone. Treat all players equal, regardless of their religion, skin color, origin, or gender. We are committed to creating a space characterized by openness, acceptance, mutual respect, absence of discrimination and a feeling of safety.
6. I do not accept hatespeech
Hatespeech and toxic behavior have no place in Esports, gaming, recreation, or anywhere else on the web. Show hate, incitement, and racism the red card to help eliminate hate speech and toxic behavior from the web.
7. I condemn those who try to harm our community
Do not hesitate to take action against anyone who deliberately misbehaves and tries to cheat by, among other things, exploiting bugs or glitches or inciting other players to misbehave. As a community, we have a responsibility to sanction those people and exclude them from our collaboration.
8. I accept the Golden Goal rule
Fairplay also means acting in the spirit of the rules. This also includes the recognition of the Golden Goal rule as an unwritten law in friendly matches. As far as objectives are concerned. If a player scores the first goal, the other player leaves the game afterwards.
We continue to behave fairly and also respect the opponents who do not leave the game after falling behind.
Every player should only play a game if he/she/they wants to win the game. If a game is started without wanting to win the game, you are not demonstrating respect towards your opponent.
The Weekend League is an exception to this rule. If you have already reached your rank goal, start the next games and let the opponent score a goal each time and then leave the game.
Do not kick the ball out of bounds and leave the game when the score is 0-0, as this is unsportsmanlike behaviour.
Also respect opponents who do not leave the game despite a large deficit. Because everyone has the right to fight until the end.
Don't let hate comments and toxic behavior go uncommented. Act actively and protect others who are affected. Don't hesitate to stand by them and always act attentively, speak out, support those affected, report hate comments and look for allies who will fight against hate with you.
The same applies to gaming: the web is not a lawless space. What is a criminal act offline (e.g. insults, incitement of the people) is also a criminal act online.
Prosecution can only happen if charges are also filed. Reporting processes differ between countries. Please inform yourself about your national contact points. Take a look at HateAid and the Council Of Europe.
By downloading I accept the FIFA Fairplay Guide and will play in accordance with it.